Backstage is a television show created by Jennifer Pertsch and Lara Azzopardi.
The series premiere aired on Family Channel, on March 18, 2016. Season 1 has finished in many countries. Season 2, which has completed filming and is currently in post-production, will premiere in fall 2017.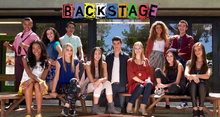 Synopsis
"Backstage follows a group of very talented teenagers as they sing, dance, and perform their way to the top at the famous Keaton School of the Arts! From the disappointments of failure, to the new friendships and crowning achievements, being a student at Keaton means you're on the path to becoming a star!"[1]
Cast
Lucas De Marinis as a Prima
Jessy Lipke as a Prima
Andrew Kyrzyk as a Prima
Ty Forhan as a dancer
Brooklyn Lipke as a dancer
Jhaliel Swaby as a dancer
Josh St. John as a dancer
Shannon Rendall as a dancer
Aly McKenzie as a dancer
Kelis Robinson as a dancer
References
↑ Backstage - Family.ca. Family Channel. Retrieved on January 28, 2016.